How We Can Help Your Business
Save Time & Make Money by Hiring Griffin Ads group to Manage Your Campaigns
We provide comprehensive PPC campaign management for Google AdWords, Bing Ads, Facebook, Twitter, etc., including search, remarketing, shopping/product feeds, display, and more.
Because even the best PPC campaigns are only as good as the post-click experience, we approach our optimizations with a holistic strategy to help you improve your website, landing pages, lead forms, and conversion tracking for the best conversion opportunities.
We learn your unique business model and advertising objectives. So whether you need sales leads or if you are selling products via e-commerce, we leverage our private equity investing experience to dig deep into your business metrics to understand your products and services and deliver you the best ROI possible.
We use only our own in-house, certified (Google, Bing, etc.), expert PPC specialists to manage our client campaigns, and we assign dedicated managers to each of our clients.
We optimize all our client campaigns for the highest ROI possible, not for the most available clicks (and highest spend). You will receive detailed tracking of your PPC-generated conversions and revenue across all PPC channels and sales funnels, including orders, leads, forms, phone calls, etc.
Get A Free Evaluation ($500 Value!)
Request a FREE performance evaluation to learn how we can make and save you money with Google AdWords
We Guarantee 100% Privacy Your information will not be shared.

Call Us with Questions!

Call and speak with one of our Google Adwords specialists now!

347.491.3841
9:00 a.m. - 5:00 p.m. Central Time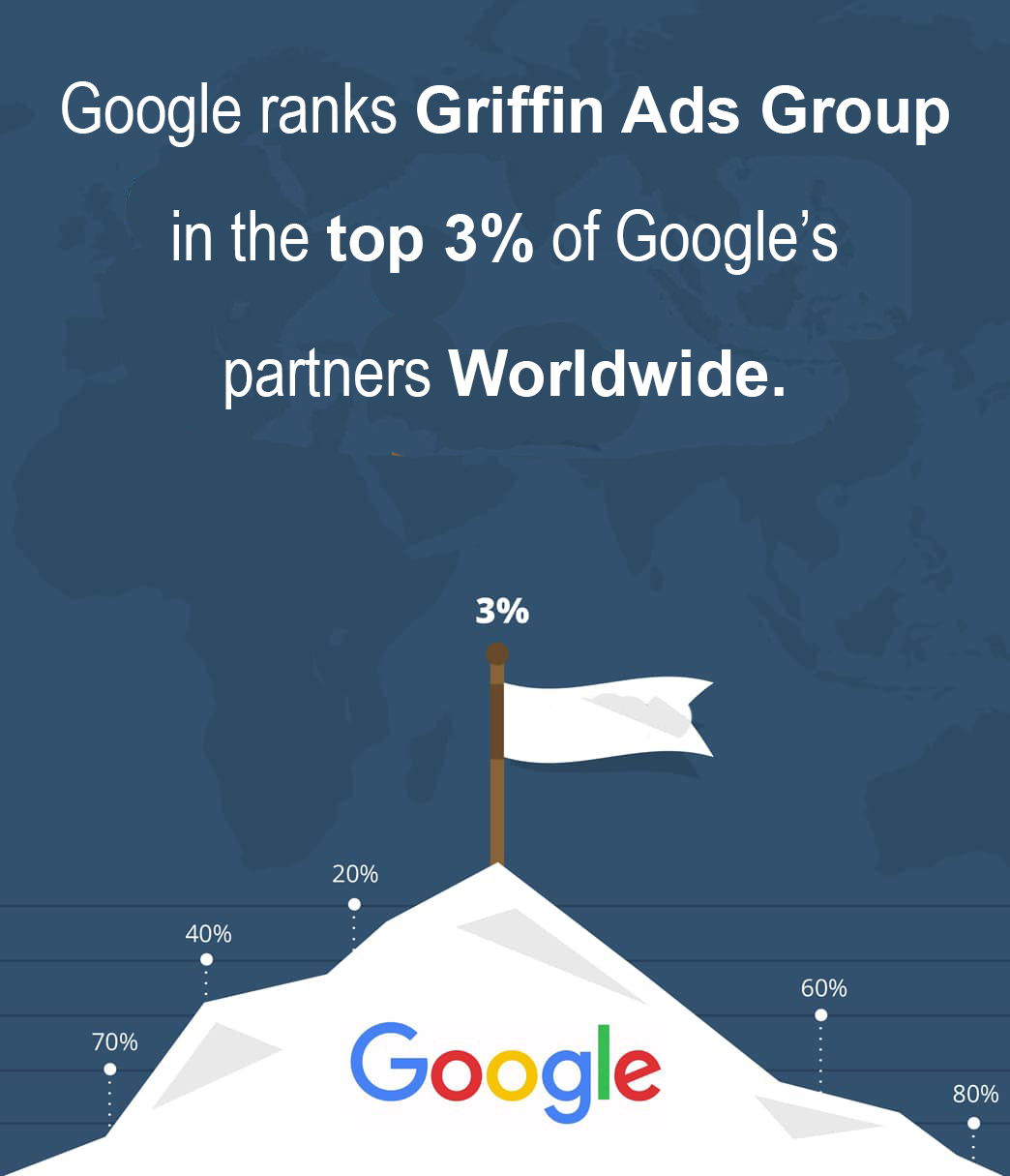 Pay-Per-Click advertising (PPC) is an essential advertising tool and channel for almost every business. But effectively leveraging PPC tools like Google AdWords and Bing Ads isn't easy!

That's where Griffin Ads Group comes in. As a digital advertising agency, we live and breathe lowering keyword costs, increasing leads and sales, and making our clients more profitable. We are an official Google Partner ranked in the top 3% of all Google Partners worldwide in performance and customer care, and Bing Ads Professional agency, and we work directly with Google AdWords and Bing Ads' advanced support teams and toolsets to manage our clients' campaigns.

Our approach is simple, we learn your business model, understand your customers and market, and then build the most comprehensive and effective pay-per-click advertising campaigns that meet your product/service business goals.

So if you're looking for an expert to start or take over your "do it yourself" pay-per-click campaigns, or if your outside advertising agency isn't delivering the results you need, let us know. We're ready to deliver. Just call us at (347) 491-3841, or complete the simple form on this page, and we can get started right away.
Customer Testimonials
"They are definitely "on the ball" and they certainly know their business very well. I highly recommend Griffin Ads Group."
Mauricio J B.
Miami Signature
"Griffin Ads Group has really done a great job for us. Not only have they honed and increased our PPC advertising, but they are very responsive and quick to help us with questions and needs as well. Highly recommended."

Daniel G.
Marlow White
"Everyone at Griffin Ads Group is kind, courteous and professional. They always make sure they put your needs first and really take the time to find out who you are and what your needs are. I would highly recommend them to everyone!"

John M.
Sol8